We strive to provide and promote the care and protection of all horses and donkeys by offering a place of safety to those in need, rehoming those with the potential for a fulfilling life outside the Sanctuary and educating owners and future generations about the value of horse welfare. Our work focuses in five key areas: Rescue, Sanctuary, Behaviour, Rehoming and Education.
Rescue
Welfare is at the heart of everything we do – a commitment that has seen Redwings involved in several large-scale rescues during our 30-year history. Each individual horse has a story to tell and helping a horse that has suffered at the hands of humans and supporting them through their journey to recovery is one of the most rewarding aspects of our work.
Sanctuary
We care for over 1,500 horses, ponies, donkeys and mules every single day at our sanctuary sites around the UK. It's one of the things that makes Redwings so special. The horses we rescue who cannot be ridden or rehomed, whether that's for health or behavioural reasons, will always have a safe and loving home with us, and you can visit some of them at our five visitor centres across the UK.
Behaviour
Many of our horses and ponies come from situations of terrible neglect or even cruelty. Others may never have encountered a human being at all. We use specialised training methods based on the scientific principles of how horses learn to train them in the most humane and ethical ways possible, so they never have to be afraid of humans again.
Rehoming
Those horses who are fully healthy and who have been successfully rehabilitated are found loving homes through the Redwings Rehoming Scheme. We look for permanent loan homes where our horses can be nurtured and cherished, but they always belong to us and so they will always have a place here at Redwings should they ever need it in future. We currently have 700 living out on permanent loan in Guardian homes.
Education
Rather than having to rescue horses and donkeys from abuse, abandonment or neglect, Redwings would prefer people to have the knowledge and commitment to prevent their animals from suffering in the first place or from taking on an unsuitable horse for their situation. We work with a wide range of people to help disseminate information and promote equine welfare.
Working at Redwings Horse Sanctuary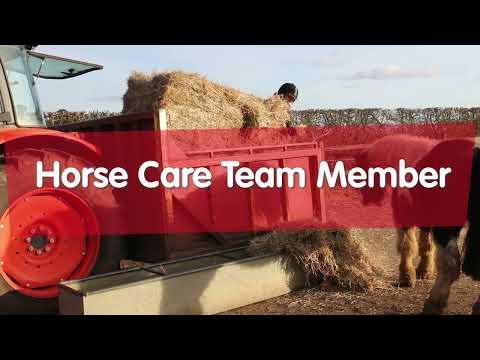 Working at Redwings Horse Sanctuary